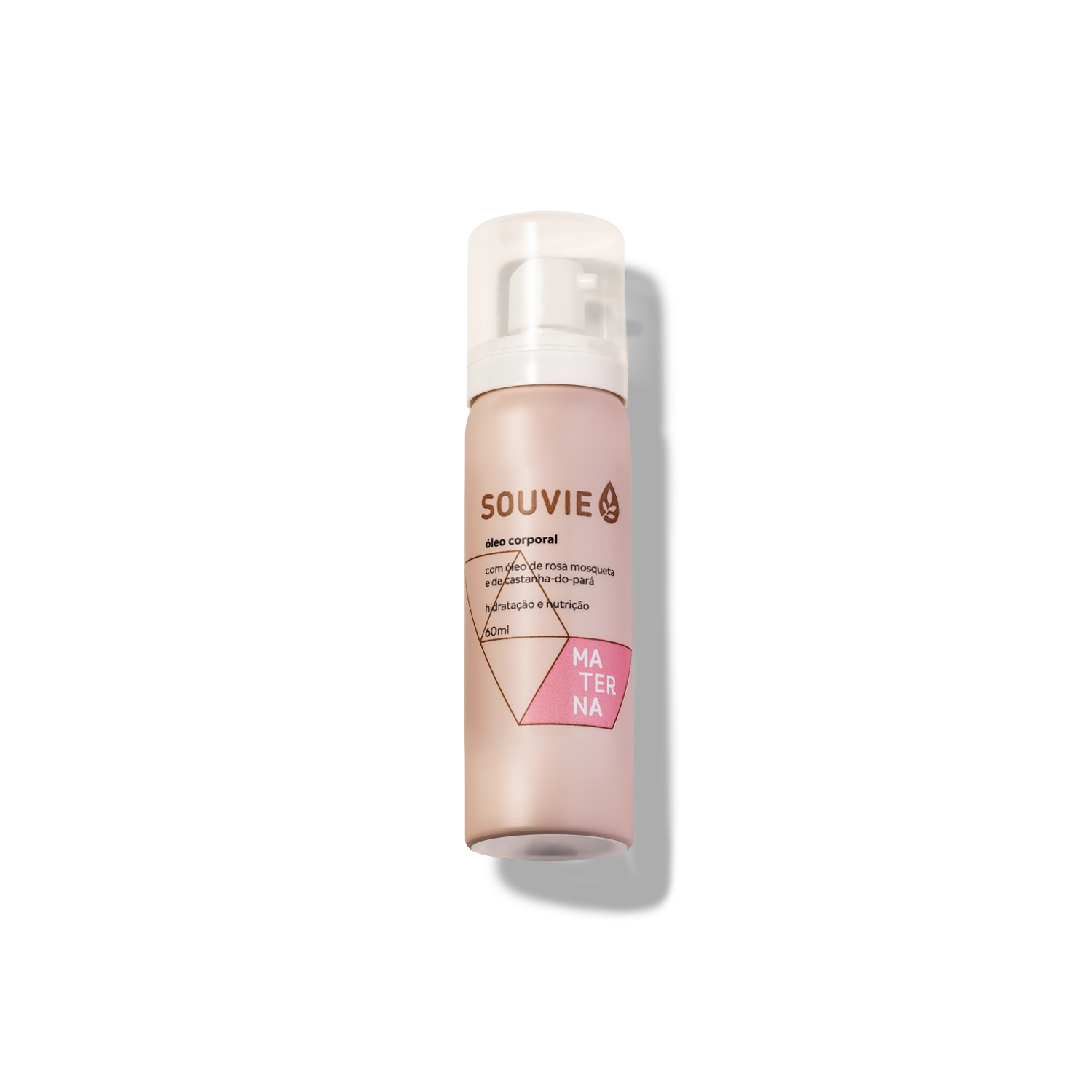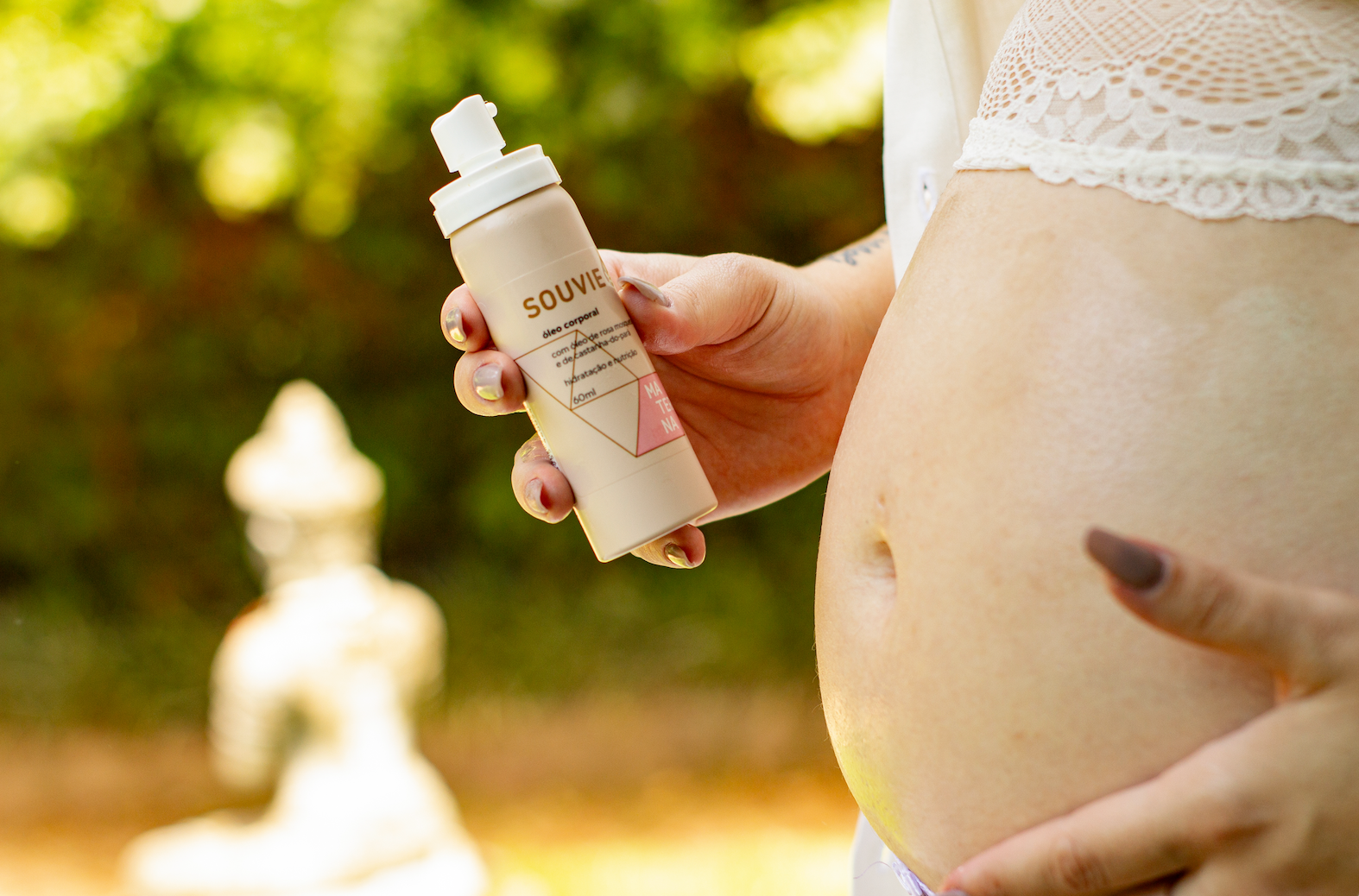 Maternity Belly & Body Oil (60ml)

Gently nurtures, nourishes and hydrates the belly & body during pregnancy and postpartum.
The Souvie Maternity Belly & Body Oil

Gently nurtures, nourishes and hydrates the skin during pregnancy and postpartum, helping to prevent against unwanted stretch marks. It provides a richly rewarding and luxurious experience while relaxing and soothing mum-to-be's body. 
Certified Organic by Ecocert Greenlife 
Dermatologically tested

All our maternal products are free from fragrances and essential oils.
Key Actives
SUNFLOWER OIL
Sunflower Oil is obtained by cold pressing the seeds of the Sunflower and has several compounds that benefit the skin including vitamin E, oleic acid, sesamol and linoleic acid.  It has a high content of saturated fat and provides moisturising, emollient and healing actions to the skin.  It's highly absorbent and doesn't clog skin pores.    

BRAZIL NUT OIL
Straight from a tree found in the northern region of Brazil, Brazil nuts are very nutritious with an oil concentration of approximately 67%.   Brazil nut oil is rich in fatty acids, has a high protein content, and is rich in selenium, providing structure-enhancing nutrition to the skin.  It acts by forming a barrier to keep water on the skin, preventing evaporation and promoting enhanced skin hydration.

COCONUT OIL
Coconut oil is able to preserve the skin's natural moisture, keeping it hydrated.  Its continuous use leaves the skin and hair stronger, nourished and healthier. In hair, its hydrating power recovers the elasticity of the threads and controls frizz. 

ROSEHIP OIL
Extracted from the fruit seeds of a Rosebush, Rose Hip Oil is rich in essential fatty acids and antioxidants, both vital for tissue and cell regeneration in the skin.  It plays an integral role in strengthening the structure of the skin and helps alleviate scars.  Its antioxidant action helps in the prevention of premature aging of skin and maintaining the natural skin tone.    

** Information about raw materials does not necessarily refer to the action of the final product
Healthy and Ethical
Silicone free
No phthalates
No sulfates
No dyes
No petrolatum
Paraben free
Without mineral oil
No synthetic fragrance
Not tested on animals
Dermatologically tested
Certified organic by Ecocert
Vegan
The skin during pregnancy needs extra care. At the start and end of each day, apply the oil all over the body, massaging gently. It's texture is dense to provide maximum nutrients for the mum-to-be.
Helianthus Annuus Seed Oil*, Tocopherol, Bertholletia Excelsa Seed Oil*, Cocos Nucifera (Coconut) Oil*, Rosa Canina Fruit Oil

99.9% of the total ingredients come from Organic Agriculture and 100% of the total ingredients are of natural origin.
An amazing non scented belly oil, it goes on so smoothly and doesn't have a sticky feeling like most. With this product a little bit goes a long way
The best body oil!
This is my favourite product for stretched skin. I'm already over 9 mounts pregnant and I've been using this oil for months. My belly is soft and without any marks. It was the best choice to use durant the pregnancy! Love it!!!
Loving my maternity belly and body oil from Souvie Australia, all natural and cruelty free. Helping me prevent those unwanted stretch marks.
Avoided Stretch Marks
During my pregnancy I had daily habits to prevent stretch marks. Every morning & evening, religiously, I would massage my belly and body with Souvie's body oil. I am grateful and happy that when I reached the end of my pregnancy I did so with smooth skin and no marks!